Leeland Stanford Junior University Marching Band
Stanford's marching band, originally formed in 1963, is one of Stanford's most exciting and flamboyant student groups on campus.
History
The band was formed by members of the official university marching band in protest of the firing of the band director in 1963. The current political structure of the band was established when the new director relinquished any meaningful control over the band, winning over the hearts of the band members.
Attire
Stanford's marching band is especially known for its gaudy dress. Attire ranges from Halloween costumes to eccentric swim attire.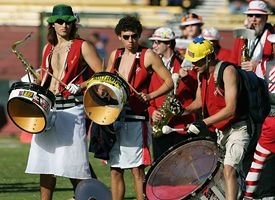 Shows
Stanford's marching band is especially known for its less than politically correct halftime shows. Stanford's marching band has even been banned in the past from certain stadiums and put on probation by the school for their shows. In 1997, the band was banned from Notre Dame Stadium for making fun of the potato famine and catholicism. Recent half time shows have included poking fun at Asia Kim, the recent teenager who had posed as a Stanford student for over half the academic year.
Traditions
The band also has dollies, which are auditioned each year and chosen by the members of the band. Dollies function as cheer leaders under the auspices of the band.
page revision: 2, last edited: 12 Jun 2008 23:41